The 5 de junio cooperative sees organic specialty coffee as the key to the development of its communities.  Its confidence in this vision reflects its belief that its coffee embodies the best its communities have to offer, from the terroir of a coffee origin emerging as one of Nicaragua's finest, to the generosity, hard work and environmental ethic of its people.
The communities where 5 de junio's members live and grow their shade coffee – Las Sabanas, San José de Cusmapa and San Lucas in Madriz, and Pueblo Nuevo in Estelí – are producing steadily more winning lots in Nicaragua's Cup of Excellence.  One of its members, Jaime Molina, has been a Cup of Excellence winner for three years in a row, placing second in 2010.
Don Jaime and his family have shared their coffee processing methods with other members of the cooperative, fostering innovation in the name of quality.  During the 2010/11 harvest, 5 de junio implemented a successful pilot project for semi-washed or "honey" coffee based on new technologies learned from Don Jaime.  The cooperative's members have carefully documented their semi-washed processes in order to share them next year with their neighbors, and applied the same principles of hard work o the semi-washed process as we do to our standard wet-milling processes.
The cooperative is seeking to develop new trading relationships with roasters who share its commitment to quality and its vision of coffee as a vehicle for social development.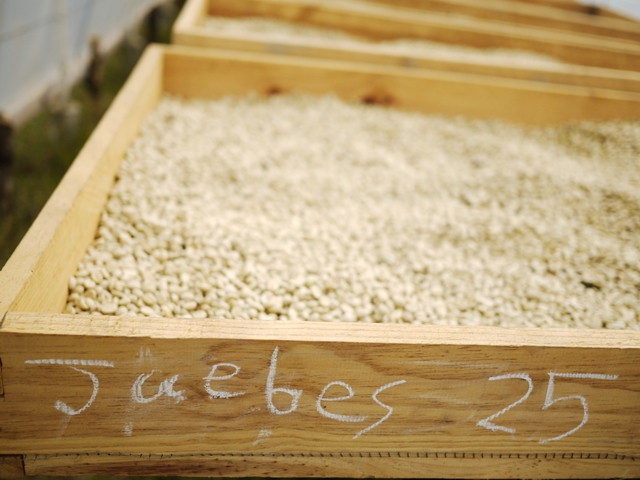 Name: 5 de junio
Established: 2001
Members: 500
Location: Las Sabanas and Cusmapa, Madriz and Pueblo Nuevo, Estelí
Elevation: 811-1647 m
Volume: 1,840 sacks (69 kg)
Certifications: organic (Fair Trade pending)
Contact: Jimmy Chavarría, + 505-8739-2450, jimi_achs@hotmail.com
5 de junio's coffee is available in the United States through Counter Culture Coffee and Mayorga Coffee Roasters.