Sustainable Harvest today released its 2011 Impact Report — the latest of the company's notable efforts to measure the impact of its trading model at origin.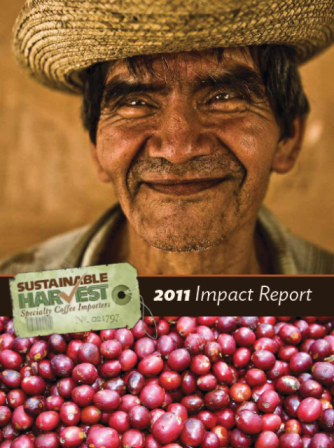 The report is a pleasure to behold, which comes as no surprise.  Over the years, Sustainable Harvest has shown us that it is constitutionally incapable of producing print materials that are anything short of absolutely gorgeous.  With this publication, it may raise the bar on its own already high standards by combining stunning photogrpahy with original infographics, including the brilliant spread on pp. 7 and 8 mapping the Relationship Coffee process.
This this beauty shows some brains, too, demonstrating how the two elements of the Relationship Coffee equation — coffee sourcing on the one hand and reinvestment in farmer training and community development on the other — combine to create a whole that is greater than the sum of its parts.  A few data points from each side of the ledger that stood out for me:
Coffee Sourcing.
41% annual growth since 1997
0.008% rejection rate in 2011
more than 205,000 farmers in Sustainable Harvest's Relationship Coffee trading system
The first two data points are from the market, the third from origin, but they go hand-in-hand.  With this kind of growth and performance on the market end of the chain, SH is creating opportunities for nearly a quarter of a million farmers at origin.
Farmer training and community development.
iPad-based data collection at farm-level, including 388 household surveys using COSA indicators — Sustainable Harvest hasn't achieved total coverage yet with its RITS and RITS Ed platforms, but with its promising early experiences it is outperforming even some development agencies in terms of bringing value-added technology to smallholder farmers
The drip irrigation data on p. 14 is rich, showing how access to water for agriculture can increase household incomes and reduce reliance on the market for family diets — two critical components of long-term food security solutions.
I loved how the section on technology on pp. 15 and 16 included both the new-school RITS Ed application and the old-school approach to peer training — two technology transfer strategies that are mutually reinforcing.
The good folks at Sustainable Harvest deserves some credit for the 2011 Impact Report.  I hope they will make this results-based approach to reporting impact an annual exercise and improve on the original design year-after-year, just as Counter Culture has done with its groundbreaking Direct Trade Certified Transparency Report.
But this report is not Sustainable Harvest's first foray into quantitative performance measurement.  It has taken performance metrics seriously for a while now.  Past impact assessment initiatives worthy of note include:
Carbon Footprint Calculations.  In 2009, Sustainable Harvest published a Carbon Footprint Report — something I hope will be reincorporated into future editions of its Impact Report.
Projects at Origin.  Finally, the company is constantly monitoring and reporting out on the impacts of its project at origin.
– – – – –
Read more discussion on the CRS Coffeelands Blog of efforts to assess impact at origin.