With apologies to my doppelganger Michael Stipe for the title of this post, I cannot get this R.E.M. lyric out of my head after huddling in El Salvador for a week with colleagues from Central America to plan a response to the coffee rust epidemic.
During the final day of the First International Coffee Rust Summit last month in Guatemala, I remarked that while participants seemed to embrace the idea that the coffee rust epidemic is an emergency on an intellectual level, it didn't feel like we were in crisis mode.  The words "emergency" and "crisis" were on everyone's lips, but they were not pronounced with the fierce urgency that I associate with their use.
I chalked up the gap between the language and the mood to the fact that we were all dog-tired: the event came hot on the heels of the SCAA Symposium and Expo, and most of the participants flew directly from Boston to Guatemala City.
Then it hit me again last week in San Salvador, that feeling of cognitive dissonance that comes when you seem to be hearing one thing and seeing another.  During a break in the meeting I walked next door to Viva Espresso for a cup of coffee, where the scene looked like this.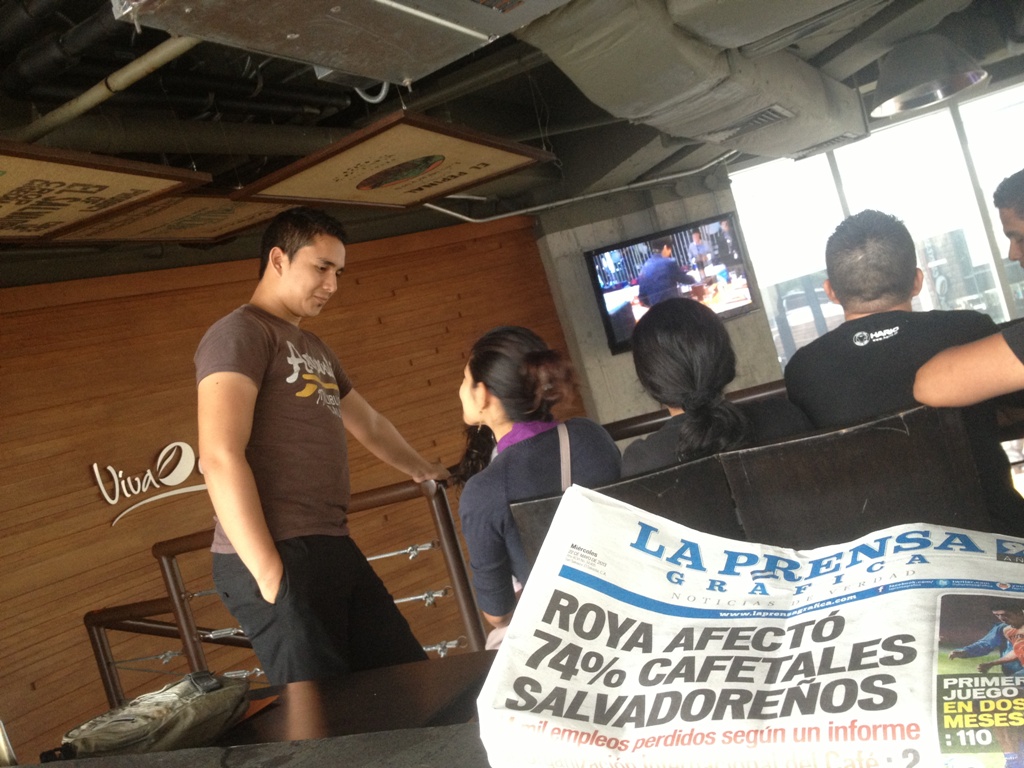 In the background, members of the Viva Espresso team gather to watch their colleague William Hernandez compete in the World Barista Championship in Melbourne.  The mood at the time the photo was taken was one of excited anticipation.  When William completed the brilliant routine that advanced him to the second round, it was jubilant.  In the foreground, the front-page story on coffee rust in that day's edition of La Prensa Gráfica, the country's paper of record.  The headline reads, "Rust affected 74% of Salvador's coffee fields."  The article closed with a sobering quote from a 64-year-old coffee picker who expects, as we all do, that the impacts of coffee rust next year will be even worse than they were this year: "I don't know what we are going to eat."