Since I first attended the SCAA Symposium back in 2011 in Houston, I look forward to it every year with great anticipation–a welcome opportunity to step back from all the busyness of the daily routine to reflect and think and engage on the big issues in coffee.
Yesterday the SCAA announced the speakers for this year's Symposium.  If the event's all-star lineup and compelling program are any indications, it will not disappoint.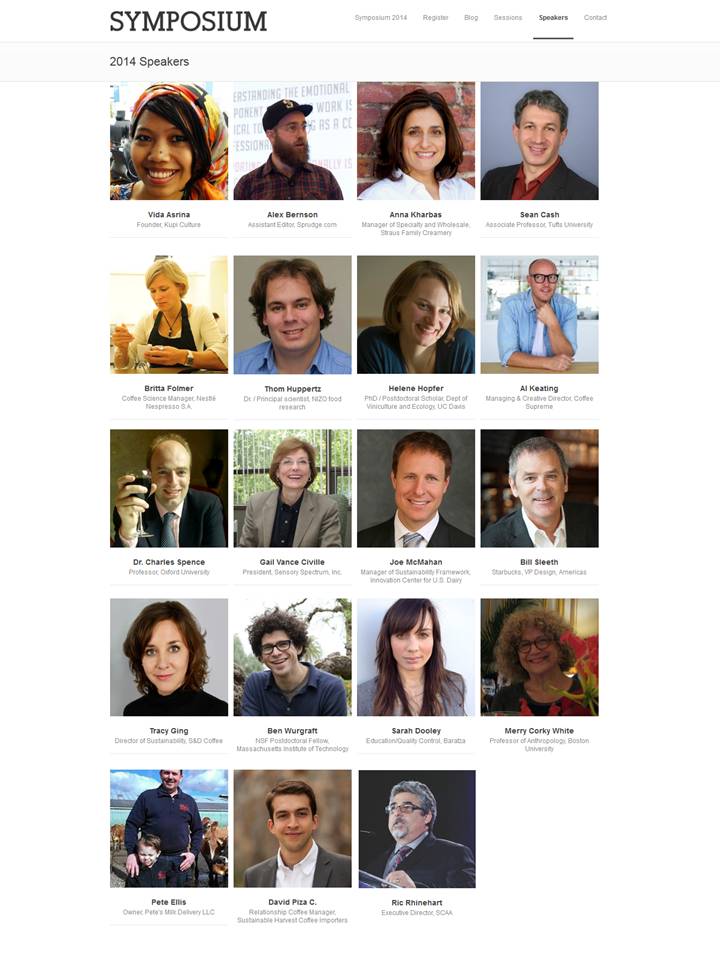 WHAT IS SYMPOSIUM?
SCAA Symposium Director Peter Giuliano opened the 2013 event with a reflection on the history and meaning of the symposium concept, which he traced to ancient Greece and divided into three components:
SYM: together
POS: drink and talk
IUM: place
Simply put, a symposium is a place where people come together to drink and talk and exchange information.
Before TED popularized the format and ted.com opened a window onto the experience for anyone with intellectual curiosity and an internet connection, symposia were the exclusive domain of the intellectual and social elite. Now many of us at least have a sense of what a symposium is.   The SCAA offers us the unique opportunity to experience one–to come together to drink and connect and talk about the one thing for which we all share a passion: coffee.
If you couldn't make last year's SCAA Symposium, watch Peter's intro here.  It will take less than 15 minutes and is a good introduction to the tenor of the Symposium experience.
Peter's talk also reveals the three essential elements at the core of Symposium's DNA:
The event's format fosters social connections between leaders in specialty coffee.
The coffee served at the event creates neural connections in the brain that make it fully alive and awake and receptive to insight.
Introduce into this space provocative presentations on cutting-edge issues in coffee delivered by some of its best thinkers, and you get great leaps of intelligence and innovation.
COFFEE
Symposium features some of the world's finest coffees, carefully roasted and expertly served by talented baristas–the event's special sauce.
It also features a coffee-centered program that convenes some of the best thinkers in (and outside of) coffee to deliver provocative presentations on issues vital to all of us.
CONNECTIONS
What happens on stage is important, but what really matters is what happens off-stage, where the best thinkers and doers in specialty reflect–over coffee, naturally–on what they have heard.  That discussion and debate leads naturally to the kinds of ideation that sparks innovation.
GREAT LEAPS OF INTELLIGENCE
My first direct taste of a true symposium was back in 2002, when I was a graduate student invited (mistakenly, I am convinced) to Dublin to attend the International Achievement Summit, a three-day affair designed to bring the achievers of today together with those of tomorrow– graduate students from elite universities around the world.  The event gathered leaders from virtually every field of human endeavor: science, medicine, arts and literature, journalism, music, film and stage, and politics.  But the program mixed achievers from different fields on the same panels to provide a diversity of vantage points that helped to intellectually triangulate the subjects of each discussion, and it arranged successive discussions to invite connections between them.
Here is an excerpt from the letter I sent to the event's sponsor to thank her for the experience.

It suggests that the SCAA may be on to something.  At my first true symposium experience I made new connections and leaps of understanding.  Even without the coffee.
– – – – –
The author is a 2014 SCAA Symposium Ambassador.