As an SCAA member, I receive every issue of the SCAA Chronicle.
As an international aid worker based in Ecuador, I get my copy several weeks after everyone else, since it is sent first to our headquarters in Baltimore then batched and sent along with other mail every few weeks to our office in Quito.
So I just got a chance to read the magazine's luminous producer issue.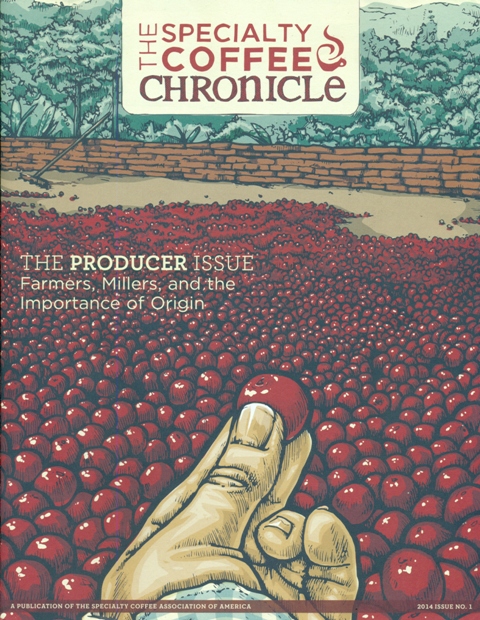 A few weeks ago, I lavished praise on the SCAA here for putting together for 2014 what may be the best "origin program" of any SCAA Expo in memory.  Today (and notwithstanding my suggestion last week that the term "origin content" is an artificial construct), I want to hold up some of the extraordinay "origin content" from the SCAA Chronicle's producer issue, whose tone–serious, sober, seeking–speaks to me of the maturity of the sustainability movement in specialty.
PETER GIULIANO
SCAA Symposium Director
The necessity of being a producer-friendly coffee buyer
What can I say about Peter Giuliano that hasn't already been said?  The guy deserves every bit of his sterling reputation as one of specialty's finest and most thoughtful ambassadors.  To this article, he brings his characteristic reverence for origin and his relentless commitment to a more inclusive coffee trade.  The passages that resonated with me most were these:
Can coffee produced under circumstances of inequity and suffering ever be thought of as "special," however delicious it tastes?  The answer is clearly no.  Ethics are a prerequisite to specialness.
If we want to enjoy great coffee, we must be willing to fight for it, and for the people who make it possible.
Anyone who does not seek to be part of the solution is part of the problem.
Every coffee buyer–no matter how small or how large–has the ability to make powerful changes.
TRACY GING
Director of Sustainability, S&D Coffee
Sustainable coffee and meaningful economic benefit
If Tracy Ging is not the best thinker on sustainability issues in specialty coffee, then she is certainly on the short list for that distinction.  Always thoughtful, always insightful, always clear and creative in her communications, and always pushing for deeper understanding and impact, she does not disappoint in this article.  She takes on BIG questions: "What is sustainable coffee?"  She doesn't shy away from hard truths: "It is not always in the farmer's best interest to do more on the farm."  And she introduces a concept that I, for one, hope will become part of the sustainability lexicon in specialty: "meaningful economic benefit."
What gets lost in the macro view: livelihood challenges, soil degradation, water strain, land use pressures and rust disease.
A farmer may stay in coffee regardless of the market conditions.  However, it is unlikely that farmer will stay focused on coffee.
Smallholder production of coffee may be "sustainable," but coffee may be less and less of a priority for farmers.
It is not always in the farmer's best interest to do more on the farm.
There also seems to be a strong narrative in our industry that quality, and subsequently quality incentives, are the paths toward economic sustainability.  Is that necessarily true?
We have to understand what "meaningful economic benefit" means, and we need the farmer perspective for that.
RIC RHINEHART
SCAA Executive Director
During President Bill Clinton's address to the 2012 Democratic National Convention, one New York-based writer posted this inspired Tweet:
Bill Clinton should be the Secretary of Explaining Things.

— Ben Greenman (@bengreenman) September 6, 2012
If President Clinton isn't available, perhaps Ric Rhinehart could stand in.  He has a remarkable capacity for synthesis and a habit of communicating complex concepts in ways that are accessible to those of us grasping for understanding. He does that again in this article on the market without missing the opportunity to elevate both concerns about the impacts of market self-correction on the most vulnerable, and the promise of "fully realized trading partnerships."
By the middle of 2013, many were starting to refer to the coffee trading structure, including the futures markets, as a "broken" supply chain.  In site of increased production costs, damage from rust, continued land and labor pressures, and good nominal demand, prices continued to decline, and farmers continued to suffer.
Free marketeers wil insist tht the market will find the correct solution(s)…For those living crop-to-crop in coffee the likely time required for the market to solve the problem will be akin to finding a cure after the patient has died.
There are some bright spots in the marketplace…We are seeing a continued desire on the part of large retail players and national food service chains to reinforce thir coffee cuppply chains and to direct roasters to more sustainable strategies…Perhaps most compelling of all are the emergence of fully realized trading partnerships, with roasters working directly with producers to increase yields raise quality and provide technical assistance and access to credit.
ALEJANDRO CADENA
Managing Director, Virmax
Challenges in coffee processing: an opportunity in disguise to foster a new breed of coffee growers
Alejandro is one of the pioneers of the microlot, helping to turn an idea that was radically counter-cultural in his native Colombia into a reality, influencing the way fine coffees are sourced worldwide.  The company he runs is built on a reputation for delivering coffees of surpassing quality–a commitment that is often perceived to exclude many of the poorest smallholders.  But he suggests the most important determinant of cup quality isn't technical but emotional: the passion of the grower.  And he doesn't ever lose sight of the fact that our whole enterprise is predicated on the profitability of coffee farming
Perhaps the most important thing I have learned over the years is that if the grower does not have a passion for coffee, not even the best varieties, the best infrastructure, or the best growing conditions are sufficient to help them produce quality coffee.
We should not be afraid to reward farmers for their hard work, so that they and their children can make a real living as coffee producers.
EMMA BLADYKA
SCAA Science Director
Basic plant biology: keeping the coffee plant "happy"
The SCAA's in-house ecologist and botanist concludes a thorough survey of leading issues in coffee husbandry with a welcome show of humility that privileges the farmer's perspective.
There are risks in agriculture that can only be fully understood by those farmers who live it in every crop cycle.  For those of us who work in the roasting, retailing or consuming end of the value chain, it's important to remember the limitations of our perspective.