The B in "Certified B Corporation" stands for Benefit.  But the B Corp certification may be the best one out there for consumers who want a holistic assessment of a company's Business model.
.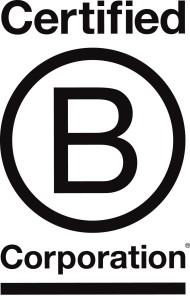 .
SORRY I'M LATE.
First things first.  I know I am late to the B Corp party.
I first heard about B Corp certification from David Griswold at Sustainable Harvest what seems like years ago.  I made a note to look deeper into the whole B Corp thing but never got around to it.  Then it started showing up in some of the publications I read.  The New York Times. The New Yorker.  And, of course, Coffee & Conservation.
I got the gist of it all, but never slowed down to really soak in the details.  Then more companies I know started signing on.  And more U.S. states ratified legislation legalizing public benefit corporations.  Finally, over the holiday break, I found some time to dig deeper, and found extraordinary substance behind the B Corp's sleek communications.
There is no better example of B Corp's marriage of style and substance in my mind than its brilliant Declaration of Interdependence.
.
.
 SHAREHOLDERS v STAKEHOLDERS.
The magic of the public benefit corporation model is that it elevates stakeholders to the level of shareholders in the decisions that a company makes.
A farmer-focused friend in the non-profit sector who used to work on sustainability issues for a publicly traded company described his decision to leave the private sector this way: "Whenever shareholder value and farmers' interests were in conflict, shareholders won out."  Naturally.  Maximizing shareholder value is, after all, a legal obligation for traditional corporations.
Which is what makes legislation legalizing public benefit corporations so powerful.  It legitimizes the pursuit of blended value in the private sector.  Public benefit companies make their decisions only partly on the basis of the financial value their actions will create for investors; they also consider the impacts those actions will have on workers, communities, water, soil, forests, etc.  If we want to extend the time horizon of our species, we must get better at balancing financial value with social impact and environmental stewardship.  Pioneering firms like Patagonia have known this for a long time and coded it into their corporate DNA long before the B Corp certification came along.
.
THE ABCs of B CORP CERTIFICATION.
So, if a growing number of U.S. states and foreign countries have legislation legalizing public benefit corporations, why should companies like Patagonia and Ben & Jerry's go the extra mile (and pay a pretty penny) to get certified as B Corporations?
Here are three compelling reasons:
Assessment.  The B lab has developed rigorous and comprehensive impact assessment tools, including the QIA, or Quick Impact Assessment, and the BIA, the full B Impact Assessment required of all applicants.  If your company cares about impact but doesn't have the resources to develop its own assessment tools (or even if it does) the B lab offers valuable off-the-shelf solutions.
Benchmarking.  Once members of the B Corp community rate themselves, they can benchmark their overall and category-specific performance against competitors.  Among coffee roasters and traders, for example, we know that Blue State Coffee and Sustainable Harvest are the companies to beat in the area of governance (15 points each), Caravela Coffee sets the pace for community impact (92 points) and Ethical Bean is best-in-class in its impact on workers (26 points) and the environment (36 points).
Communication.  The B Corp certification is a powerful evangelist for public benefit corporations, preaching the gospel of business for blended value through effective digital communications.  In a marketplace littered with examples the negative impacts on people and the planet of an exclusive focus on financial value, it is a welcome and dynamic new voice.  Members can bask in the light of the halo over the B Corp community and point to the B Corp third-party validation of their commitments and performance.
.
B CORP v FAIR TRADE.
At the risk of piquing the ire of Fair Trade advocates (again), I am tempted to compare B Corp certification and Fair Trade Certification.
It's not my fault, actually.  B Corp made me do it by publishing this suggestion prominently on its website:
B Corp is to business what Fair Trade certification is to coffee.
Only B Corp certification may be even better for consumers looking for a holistic indicator of a company's business practices.
When I was leading the CRS Fair Trade Coffee Project, we developed a high-bar standard for partnership–we invited only "100-percent" Fair Trade coffee roasters to become partners. Why?  Because Fair Trade Certification only describes a transaction.  A company's decision to certify as Fair Trade only a portion of its coffee (1 percent, 5 percent, even 30 percent) didn't necessarily tell you much about that company's business model.  A 100-percent commitment to Fair Trade sourcing, however, seemed to speak more clearly to how a coffee company makes its money and relates to its suppliers.
Why is B Corp better than a 100-percent Fair Trade standard for this purpose?  Because its performance scorecard goes beyond Fair Trade standards to assesses companies across more categores and generate a clearer and more complete picture than Fair Trade Certification alone can offer of a company's business model and its impacts on people and the planet.
.
THE COFFEE A-LIST B-ROLL.
To date, 15 coffee traders and roasters worldwide have become Certified B Corporations.
Former Roast Magazine Roaster-of-the-Year award winners (4 companies), members of the Cooperative Coffees network (3 companies) and Canada (3 companies) are particularly well-represented.
 .
Amavida Coffee & Tea – Santa Rosa Beach, Florida – Amavida serves the Florida panhandle and is a member of Cooperative Coffees, which imports Fair Trade and (mostly) organic coffees for 23 community-based coffee roasters across the United States and Canada. B Corp scorecard.
Blue State Coffee – Hartford, CT – This roaster's mission is to use its coffeehouses to create community across New England.  It is easier to do that when the coffee is good, of course, so Blue State sources its coffees with care, sometimes directly.  B Corp scorecard.
Caravela Coffee – Bogotá, Colombia – This "vertically integrated green coffee company with roots in Latin America" is the second stage in the evolution of the Colombian exporter Virmax Café.  The company is growing fast, with sourcing operations in Nicaragua, Guatemala, Colombia and Ecuador and importing operations in the United States, Europe and Australia.  B Corp scorecard.
Coda Coffee – Denver, CO – Coda Coffee is a family affair in Denver that was started by two Seattle transplants and their Dad in 2005.  They love the color orange and they roast some decent coffee: Coda was the  Roast Magazine 2014 Macroroaster of the Year.  B Corp scorecard.
Conscious Coffees – Boulder, CO – Conscious Coffees is former Roast Magazine Microroaster of the Year and a member of the Cooperative Coffees family, but it is not Canadian. B Corp scorecard.
Equator Coffees & Teas – San Rafael, CA – A former Roast Magazine Macroroaster of the Year, Equator has contributed mightily to the understanding that coffee is culinary through partnerships with celebrated chefs and fine restaurants.  And it invests in its people–health care and 401k contributions in the United States and reinvestment in social projects at origin.  B Corp scorecard.
Ethical Bean Coffee – Vancouver, British Colombia (that's in Canada, people) – A family-owned Fair Trade roaster with deep ties to coffee-growing communities in Huehuetanango.  Its owners went to Guatemala 15 years ago to adopt their daughter and came back with a daughter and the idea that they could use business in to foster rural development in the coffeelands.  B Corp scorecard.
Grounds for Change – Poulsbo, WA – A family-owned roaster in the great PNW that delivers Fair Trade, organic, shade-grown coffee, offsets, composts, and contributes 1% for the Planet.  B Corp scorecard.
Jim's Organic Coffee – West Wareham, MA – Jim Cannell has been doing it (trading coffee, that is) organically since he opened the doors of Jim's Organic Coffee in 1994.  B Corp scorecard.
Larry's Beans – Raleigh, NC – Larry's Beans powers its roastery with solar, harvests rainwater, composts organic waste and delivers organic Fair Trade coffee in a bus that runs on biodiesel.  Why?  As Larry's says, to "Make the Planet Last."  B Corp scorecard.
One Village Coffee – Souderton, PA – OK, so Souderton may not get confused with Portland, Seattle or Los Angeles on anyone's list of great American coffee cities, but One Village takes its commitment to quality (and sustainability) seriously.  B Corp scorecard.
Reunion Island Coffee – Oakville, Ontario (more Canadians!) – Roast Magazine's reigning Roaster of the Year is a pioneer in Canada's specialty coffee market that currently sells organic, Fair Trade and Rainforest Alliance certified coffees sourced through direct trading relationships.   B Corp Scorecard.
Salt Spring Coffee – Richmond, British Colombia (Canadians everywhere!) – Salt Spring's sustainability program includes commitments to a Fair to Farmer principle, zero waste and measuring and offsetting its carbon footprint. B Corp scorecard.
Sustainable Harvest – Portland, OR – A coffee importer that needs no introduction, Sustainable Harvest has been blending social impact and environmental concern with profits since its inception. B Corp scorecard.
.