Last month, Counter Culture introduced this single-variety community lot from La Florida.  This month, it rolls out a series of more than one dozen single-farm lots from the same region of Nariño.
.
WHERE DOES QUALITY COME FROM?
Counter Culture QC Director and Coffee Buyer Tim Hill traveled with me to La Florida in May 2014 and told a gathering of farmers participating in our Borderlands project that he believes that coffee quality comes from three places:
VARIETY: what kind of coffee is grown.
ENVIRONMENT: where coffee is grown.
FARMING PRACTICES: how coffee is grown.
(Incidentally, this approach mirrors the rigorous GxExM framework we discussed here  with George Howell.)
Tim made his remarks surrounded by small farms growing plenty of Caturra and Typica at an elevation of around 1900 m, so he knew the first two were solid.  He told the assembled crowd that if they would commit to extra effort on the third, he would buy their coffee at a premium.
.
IF YOU LIKED THE LA FLORIDA SINGLE-VARIETY LOT…
I think they took the message to heart.  They came together to produce community lots for the first time ever, and produced a coffee that Counter Culture is pretty excited about.  The verso of the La Florida bag tells this story:
.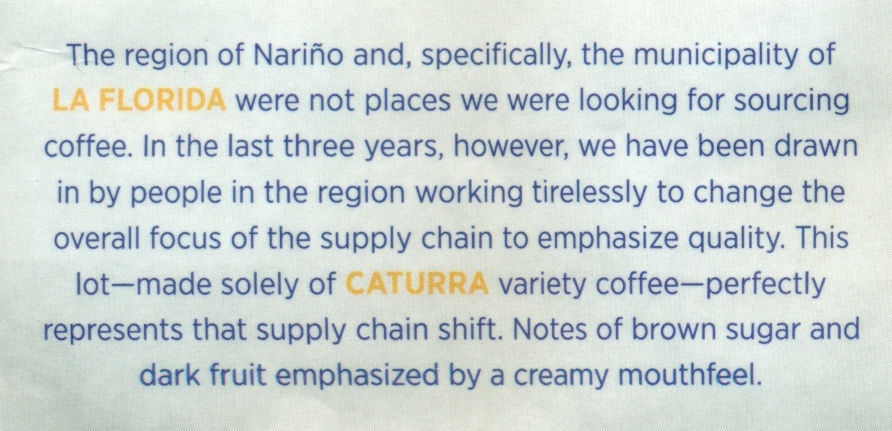 .
It seems Counter Culture's customers share its excitement about this coffee, as it has been flying off the shelves.
The bad news is that it will be gone by month's end.  (Buy it here before it's gone.)  The good news is that the single-farm lots Counter Culture will offer beginning this month may be even better.
.
…YOU WILL LOVE THE BORDERLANDS SINGLE-FARM LOTS.
In addition to the La Florida lot, Counter Culture purchased two smaller village-level lots and more than one dozen single-farm lots that it will release over the next two months, beginning later this week.  Counter Culture will offer most of the single-farm lots to its cafe customers, but will will sell 3 or 4 directly through its website, begining later this week with the Jorge Avilio Cabrera lot, which features "raw sugarcane sweetness and delicate apple/pear notes."