It's that time of year again: back-to-school time.  Which means it is also time for the annual "What I Did This Summer" essay.
As a home roaster in Ecuador with a limited array of locally available coffees available to roast, my annual summer vacation affords me the opportunity to branch out and sample all the fantastic coffees out there I so rarely get to try.
In addition to my regular travels on the East Coast of the United States this summer, I had the great good fortune to participate in the first-ever Re:co Symposium in Gothenburg, Sweden, in June.  That meant I was also able to try coffees from lots of European roasters I had heard of,  corresponded with, and even met, but whose coffees I had never been able to taste.  In the process, I learned I may be a Nordic at heart: I loved the roasts on pretty much everything that came from Sweden and Norway, which are more like my very light home roasting profile than anything out there.
WHAT I DRANK THIS SUMMER.
My summer coffees in pictures.  Each one served by the cup, ground by hand on the Hario travel mill and poured through a Hario V-60.
.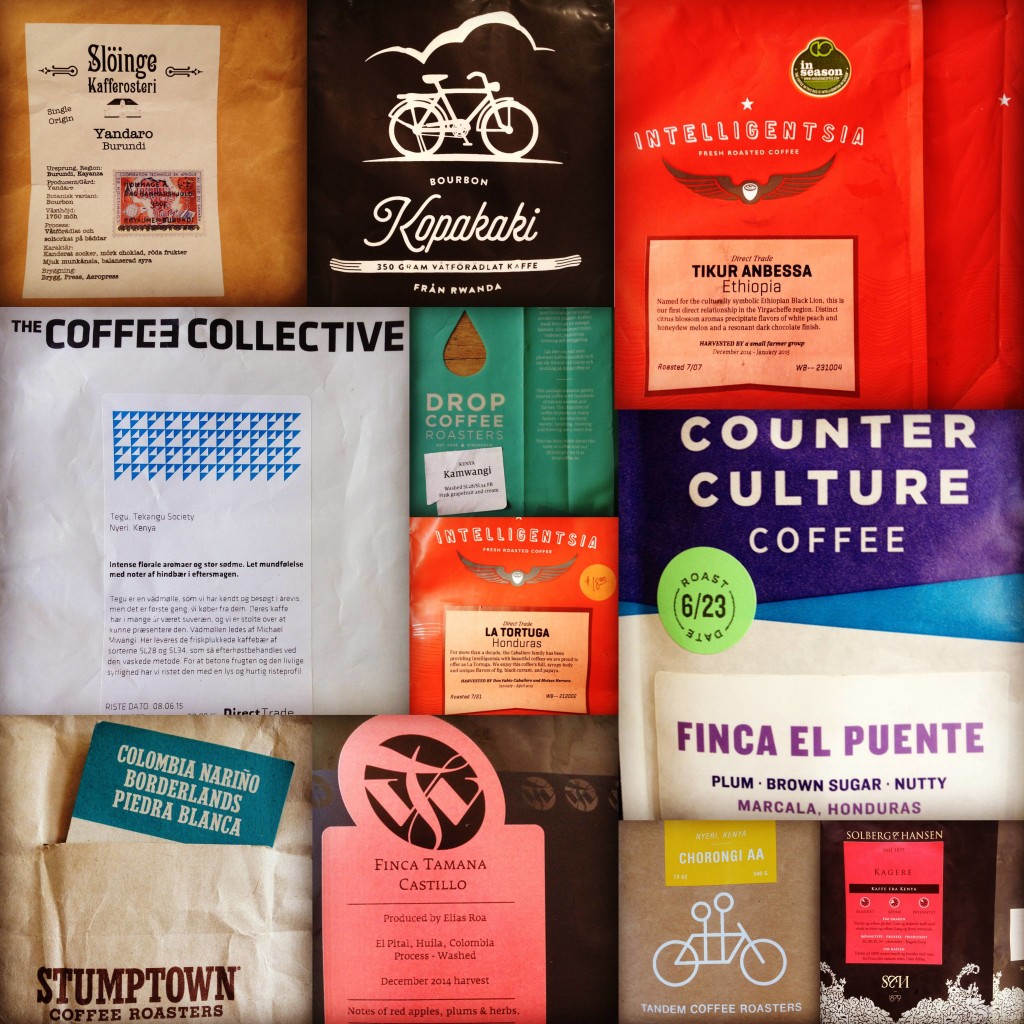 .
WHERE.
Baltimore.  The coffee scene in Baltimore has come on strong since I left in 2007.  This summer I made visits to Artifact (where I had the pleasure of inviting an old friend to share a Chemex of a single-farm lot grown by Luis Portillo, a participant in our Borderlands project in Colombia, and roasted by our friends at Counter Culture), Johnny's off the beaten path in leafy Roland Park and unjustly left off this Sprudge profile of Baltimore's coffee scene (Johnny's serves Ceremony Coffee from nearby Annapolis, and serves it well) and a new spot in Mount Vernon, Dooby's, which serves exclusive small lots roasted by Passenger Coffee in Lancaster, PA.
Charlottesville, VA.  Made my annual visit to Mudhouse Coffee Roasters on the Downtown Mall.
Gothenburg, Sweden.  Only made it out to sample the local coffee scene twice, and never got past da Matteo, but was hardly disappointed by its Ethiopian offerings on the pour-over bar.
Portland, ME.  My first visit to the celebrated Tandem filling station did not disappoint.  The Yirgacheffe Alemu was particularly memorable.
Providence, RI.  Made the tasty pizza-and-coffee stop on the way to Cape Cod again this summer: slices at Fellini's then coffee to go across the street at The Coffee Exchange.
Princeton, NJ.  Revisited the café that got me through grad school–Small World Coffee–where the baristas welcomed me back as if I never left.  (The excellent Café Brújula in Oaxaca was started by a former Small World roaster.  When we made the connection a few years ago as I was traveling through Oaxaca a few years ago he smiled and said, "Huh.  Small world.")
State College, PA.  Saint's Cafe, my hometown coffee shop, delivered the goods again this year, with Intelli single-origin whole bean (the Tikur Anbessa is a new favorite) to go and pour-overs to stay on the Kalita Wave.
THANK YOU again to all the farmworkers, growers, traders, roasters and baristas whose put their hands on my coffee this summer and helped make it the best coffee summer ever.  Already looking forward to starting my 2016 summer coffee tour in Dublin with Re:co Symposium next summer!