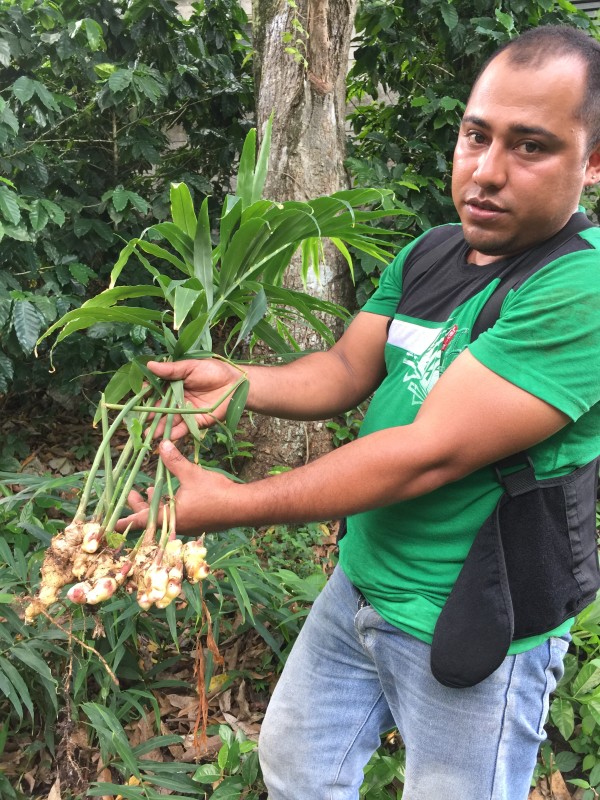 The coffeelands of Central America's "dry corridor" are becoming major testing grounds of perseverance and innovation in the face of climate change.
According to a report from the InterAmerican Institute for Agriculture Cooperation (IICA) in May 2015, "The Central American Dry Corridor and the Dry Arch area of Panama, given their long dry season and the possibility of drought even in the rainy season, are very much at risk from the effects of climate. The levels of poverty, food insecurity and degradation of natural resources found in both are a reflection of their social and environmental vulnerability."
.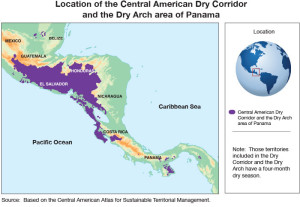 .
Coffee growers in Boaco, Nicaragua are on the front lines of adapting their livelihoods to a changing climate. The coffee lands here range in altitude from 700-1200 meters above sea level, and almost half of the municipality is part of Central America's dry corridor.  The region was punished by coffee leaf rust three years ago, and moderate to severe drought conditions over the past three years have caused serious productivity deficits in coffee.
The Tierra Nueva cooperative, or COSATIN, is a cooperative 630 members.  Every member is 100% organic certified and use polyculture agroforestry systems to grow their coffee.   Their leadership has been preparing for these conditions for a number of years, and has had the foresight to both diversify into other high value crops and also to replant with rust resilient varieties following the leaf rust crisis.  They also have four climate monitoring stations where they are analyzing weather patterns such as precipitation and temperature.
Breaking ground in new high value crops is hardly a novel idea to Pedro Rojas, General Manager of COSATIN. The coop's farmers have been producing honey for over ten years, and have a post-harvest storage and packing center to export honey to high value markets in Europe.  104 farmers in the cooperative have learned to integrate bee-keeping into their production plan, and COSATIN now produces enough volume and good quality honey to participate in export markets.  However, bee-keeping is susceptible to drought, and farmers were taking losses in honey at the same time leaf rust hit farmers hardest.  Coffee yields per manzana (local land measurement equal to approximately 1.7 acres) were as low as 400 pounds green, and farmers were plunging into debt.
Pedro began to search for alternatives. He was looking for crops that were high value, could produce income quickly (annuals as opposed to perennials), and were shade tolerant, relatively low-risk, and compatible with organic farming practices.  After a series of inquiries, in 2013 COSATIN ventured into the world of spices, beginning trials with turmeric and ginger.  COSATIN is now on its third year of organic and Fair Trade certified turmeric and ginger production, exporting to high value European markets.  They are drying, peeling and cutting both products in a simple post-harvest facility alongside their coffee dry mill.
Farmer members I spoke with are delighted with both crops, and it is easy to see why:
The production cycle is short: the period from planting to harvest is six months, in contrast to coffee which requires a three year waiting period. With rain fed systems only there is one harvest per year; with irrigation up to two.
Both rhizomes love the heat and can be grown at a wide range of altitudes, making both crops highly suitable alternatives in a changing climate.
Both turmeric and ginger are shade tolerant and can be intercropped with coffee (between rows) in an agroforestry system or in full sun compact systems. Once dry, they are shelf-stable for two years and entirely storable with no risk to the farmer. Neither crop is highly vulnerable to pests or disease; production costs consist of seed purchase, planting, weeding, and harvesting.
Perhaps most important to the farmer is that both turmeric and ginger are putting cash in the hands of farmers at a critical moment. For turmeric, farmers reported yields of 250 hundred weight sacks per manzana, and are receiving a farm gate price of $12.50 / sack from COSATIN with zero volatility over the past three years. All post-harvest processing is handled by COSATIN at no cost to the farmer. That amounts to a gross income of USD $3,100 per manzana. Now let's compare that to coffee this year. COSATIN farmers who average yields of 800 pounds of green coffee per manzana and receive a double-certified (fair trade and organic) premium price this year averaging $1.60 per pound, amounts to $1,280 in gross income. Farmers also must manage primary post-harvest processing of parchment coffee, incurring additional production costs. Both spices trump both coffee and cacao in terms of income potential to farmers.
.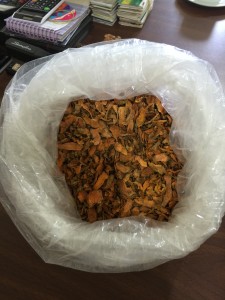 .
The lack of price volatility in turmeric and ginger is notable, particularly for coffee farmers. Both spices are produced in small quantities and are not bulk commodities subjected to stock exchange systems and speculation.
Finally, international buyers are excited about turmeric and ginger in Nicaragua. Compared to other sourcing countries, Nicaraguan turmeric is gaining a reputation for possessing higher quantities of curcumin, the orange-yellow compound that represents the chief coloring attribute of turmeric.
Coffee remains at the core of COSATIN's operations, and farmers there are committed to adapting their growing schemes to a changing climate. However, spices like turmeric and ginger are providing a high value, low risk alternative in a region that must adapt to climate change now.
-Jefferson Shriver