At a meeting late last year with the Colombia's National Coffee Growers Federation, I noticed a calendar on the wall declaring November "The Month of Coffee Leaf Rust Control" in Colombia.  What is coffee leaf rust and why it is the cause of so much concern in Colombia?
THE ORIGINS OF COFFEE LEAF RUST.
Coffee leaf rust is a fungus that was first observed in 1860s in Kenya and Sri Lanka and soon spread to Indonesia and the Philippines.  In response, farmers in Kenya replaced their Arabica varieties with Robusta, which takes its name in part due to its stronger resistance to diseases like rust.  But the leaf rust epidemic was so bad in Sri Lanka in 1868 that farmers gave up on coffee entirely, replacing it with the tea we more commonly associate with Ceylon.
COFFEE LEAF RUST IN THE AMERICAS.
Coffee leaf rust made its first appearance in the Americas in 1970, when it wiped out a harvest in Brazil.  In response, Colombia implemented a phytosanitary protection program that managed to keep coffee leaf rust at bay for more than a decade, but not keep it out altogether: outbreaks of rust were recorded Colombia beginning in 1983.  For 25 years, Colombia's coffee farmers managed to contain coffee leaf rust through a combination of agrochemical use and resistant varieties of coffee.  But beginning in 2008, changing weather patterns suddenly made coffee leaf rust more virulent.
PRODUCTION LOSSES TO RUST IN COLOMBIA.
Since 2008, production losses to coffee leaf rust have been significant.  In response, Colombia's coffee authorities have mounted a massive campaign to replace varieties susceptible to rust with the new, disease-resistant Castillo cultivar.  Between the production losses and renovation efforts that have taken large swaths of the coffeelands out of production temporarily, the impact on Colombia's coffee sector has been devastating.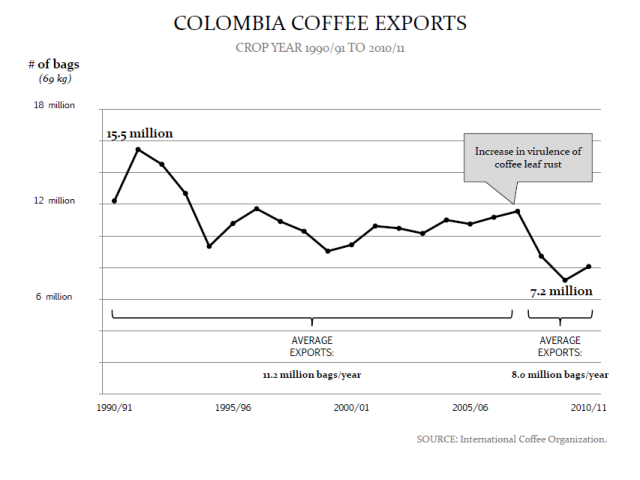 – – – – –
This post is the second in a seven-part series titled "Colombia's other eradication campaign."
<< Previous: Colombia's other eradication campaign.
Next: The origins of the Castillo cultivar.  >>