Counter Culture Coffee may have scored the show's biggest hit with its brilliant Pop-Up Café, a full-on mobile coffee shop the crew erected outside the Expo.  While everyone else serving coffee was slogging it out in the scrum on the show floor, Counter Culture was staying cooly out of the fray, doing its thing with the help of some guest celebrities, from baristas to growers.  The company's Coffee Director Peter Giuliano used his slot at the Symposium to urge specialty coffee to return to its roots as an intrinsically social experience centered on an exotic, handcrafted beverage.  The Pop-Up Café did just that — it swam against the frenetic (disposable-cup) current of SCAA to create a memorable, one-time-only consumer experience that delivered some exceptional coffees (in ceramic cups) and the kinds of quality conversations you might expect in a more permanent (quality-obsessed) coffeehouse.
On Friday, Peter Guiliano and Aida Battle served experimental coffees from her farms and explained the processing variations.  Saturday: cupping different varietals with Marysabel Caballero from the El Puente farm in Honduras.  On Sunday, more Salvadoran microlots and the best coffee I had during the whole show — the Buziraguhindwa microlot from Burundi, a cup so bursting with raspberry that it prompted an I-can't-believe-it's-not-a-natural reaction from even the most accomplished palates.  It was served next to the regular lot and was in itself a memorable lesson in the power of post-harvest selection.
For me personally, the Pop-Up Café also delivered one of the best moments of the event — seeing farmers from the 5 de junio cooperative in Nicaragua try their own coffee, Counter Culture's newest Direct Trade Certified single-origin offering.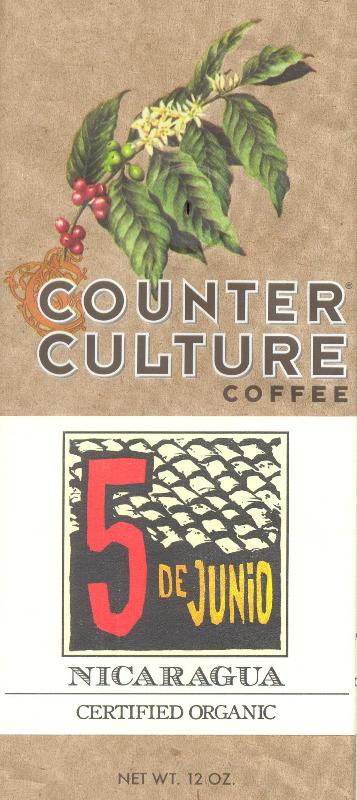 My gratitude to all the good folks from Counter Culture for the enlightment and patiently refilling my cup with extraordinary coffees for three days.