Last week, the Coffeelands Blog marked the third anniversary of its first post.
It has been a good year for the blog.  Unfortunately, that is due in part to the fact that it has been such a difficult year for Fair Trade.
The purpose of the Coffeelands Blog has always been to provide a field-based perspective that is often missing from market-based discussions of critical issues in coffee.  Our hope is to make thoughtful and meaningful contributions to the ongoing conversation about sustainability in coffee based on our experience at origin.  Readership of the blog has increased over the past year, thanks principally to our coverage of Fair Trade: the most popular posts have been the ones we have published on the growing pains in the Fair Trade movement.  If the number of visits and comments the blog generates are indicators of success, then it is safe to say that readers seem to value our contributions to the discussion — which is not to say they have always agreed with them.
I have heard plenty of kind words about the blog in private over the past year, and even seen a few published in some prominent places.
In August, The Nation magazine relied on the Coffeelands Blog as a key source in its excellent article on the Fair Trade split.
In September, one of my favorite coffee bloggers Julie Craves honored the Coffeelands Blog by including it in a list of recommended coffee blogs.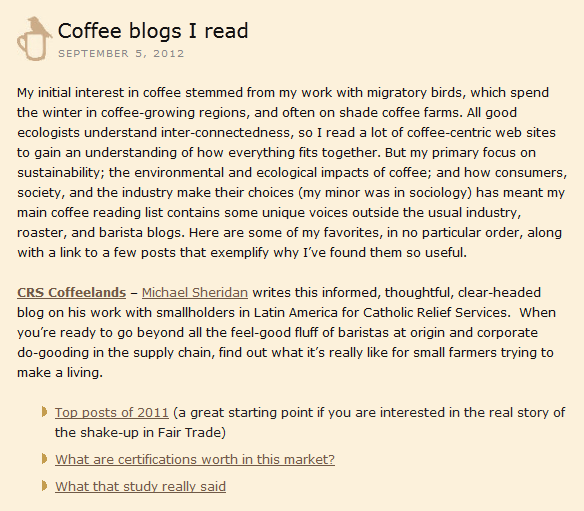 And in October, the irreverent coffee scribes at Sprudge gave the blog the ultimate endorsement.
if you care about global coffee, you should be following @coffeelands and reading http://t.co/1sa5z2t2 #ltc2012

2012-10-05 14:58
via web
Retweet
Favorite
Thanks for reading!